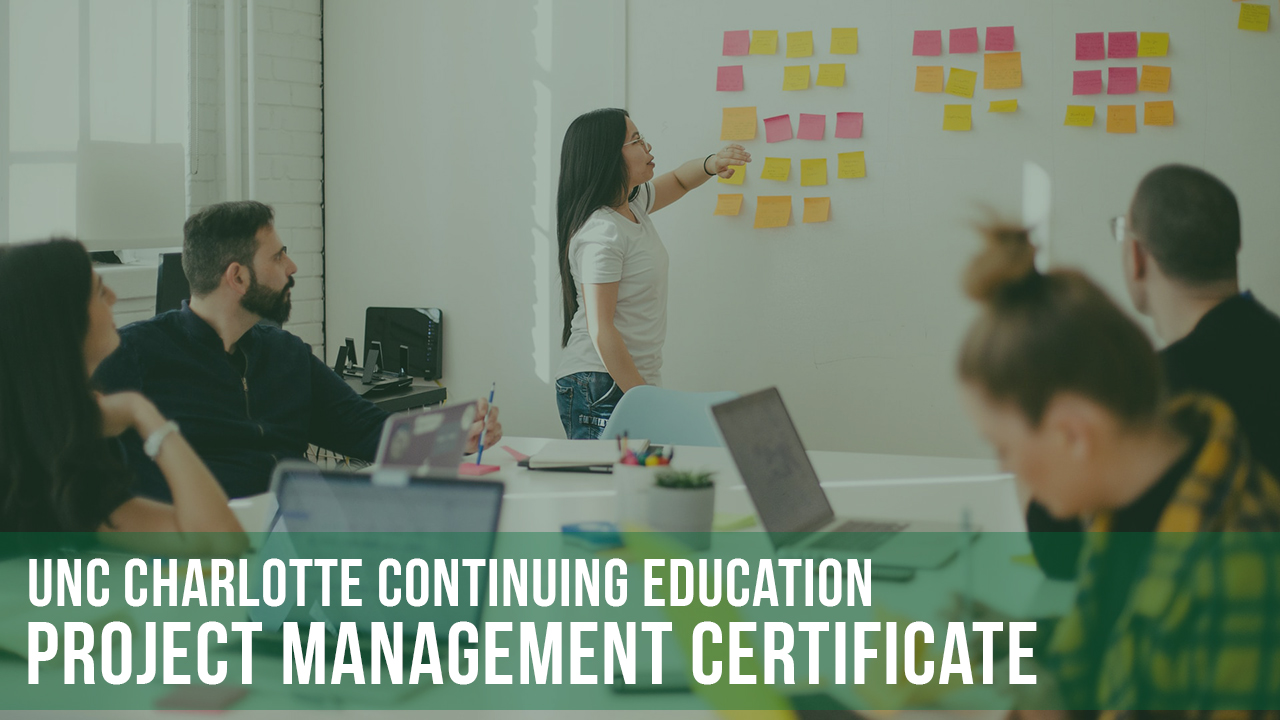 Overview
We all work on projects…however we often tackle our projects differently. This can cause unintended inefficiencies and challenges when connecting with other people and teams who you need to move projects along. This is the biggest reason why most projects either end up over budget, delayed or are not completed at all.
The good news is there are best practices for working on projects that can allow you to finish your projects faster and with better results.
UNC Charlotte's School of Professional Studies Project Management Certificate is designed to give teams, project managers and all working professionals the project management skills and best practices needed for project management success.
Plus, included as part of your Project Management Certificate you will earn your Lean Six Sigma White Belt certification, an industry-recognized certification, that will help you create new efficiencies, improve processes and ensure consistent work quality.
What courses do I need to take?
To earn your Project Management Certificate you will need to complete the following six courses:
Principles of Project Management (which includes the Lean Six Sigma White Belt certification)
Project Schedule Development and Control
Leadership and Communication Skills for Project Managers
Cost Estimating and Cost Management
Project Quality Management
Project Risk Management
Is there an order I need to take the courses?
Take the courses in any order and start the courses at any time. All courses within the Project Management Certificate are available as either classroom or live-online delivery. You may choose to do all live-online courses, all classroom courses, or do a mix of both.
How did we choose and develop our project management course topics?
Project management has become one of the world's most in-demand skill sets. The certificate program is designed to provide you with a firm base of real world best practices along with best practices from the Project Management Institute's (PMI) A Guide to the Project Management Body of Knowledge (PMBOK® Guide).
The two-hour Lean Six Sigma White Belt (part of the Principles of Project Management course) provides a brief overview of three of the most-widely used total quality management methodologies in the industry today. The first half of the program covers an introduction to the Six Sigma methodology used to improve existing processes or design new processes. The second half of the program is a brief introduction to the methodology called Lean, which provides participants with the general knowledge of the terms used by practitioners in the industry today. The Lean Six Sigma White Belt is an industry standard credential which is part of a six tier university accredited credentialing system that culminates with a Master Black Belt. The short two-hour course is asynchronous and can be completed either before or after the live Principles of Project Management class.
Whether you are currently a project manager looking to improve your skills, a member of a project team or a professional in another field who wishes to transition into a more formal project management role, these courses will provide you with the skills you need to accelerate your career. The certificate meets the project management education requirements to qualify to take either the Certified Associate in Project Management (CAPM)® Exam or the Project Management Professional (PMP)® Exam.
All courses are based on the Project Management Institute's (PMI) A Guide to the Project Management Body of Knowledge (PMBOK® Guide). The curriculum will empower you with the skills necessary to tackle the challenges facing your projects.
Additional Questions You May Have About Project Management
Project Management Institute (PMI®) defines Project Management as, "The application of knowledge, skills, tools and techniques to project activities in order to meet or exceed stakeholders' needs and expectations from a project." Project Management is the discipline of planning, organizing, securing, and managing resources to bring about the successful completion of specific project goals and objectives.
If you are considering a career in project management, here are some questions to consider:
Do you prefer thinking about the bigger picture rather than specializing in a particular discipline? Project Managers build a bigger picture perspective while identifying key obstacles to be overcome to reach designated milestones.
Do you enjoy facilitating the decision-making process and helping to define options by pulling together information from many groups working on a project? Project Managers help to coordinate the tasks of a project so that teams work more effectively and efficiently. While Project Managers take part in the decision making, they are typically not the decision makers.
Do you like to serve as a highly visible, primary representative of a project? Project Managers need good communication, interpersonal, and diplomatic skills, as well as the ability the manage people without oftentimes having any direct authority.
A project manager's success is usually measured by how efficiently a project moves forward, the quality of execution, and how well the team functions together.
According to PMI, project management jobs in project-oriented industries in the US alone will grow from 6.7 million jobs in 2017 to 8.8 million jobs in 2027, a 31% increase. PMI states, "Now is the time for professionals and job-seekers to build project management skills, as demand for these skills outstrips supply."
Lightcast shows a medium advertised salary of $104,200 for project management jobs in the Charlotte region which include the Project Management Professional Certification (PMP) as a qualification.
Our certificate program can be a stepping stone to earning the PMP as many of the participants who complete our program gain more experience and then sit for the exam. However, PMP certification is not required for many project management jobs.