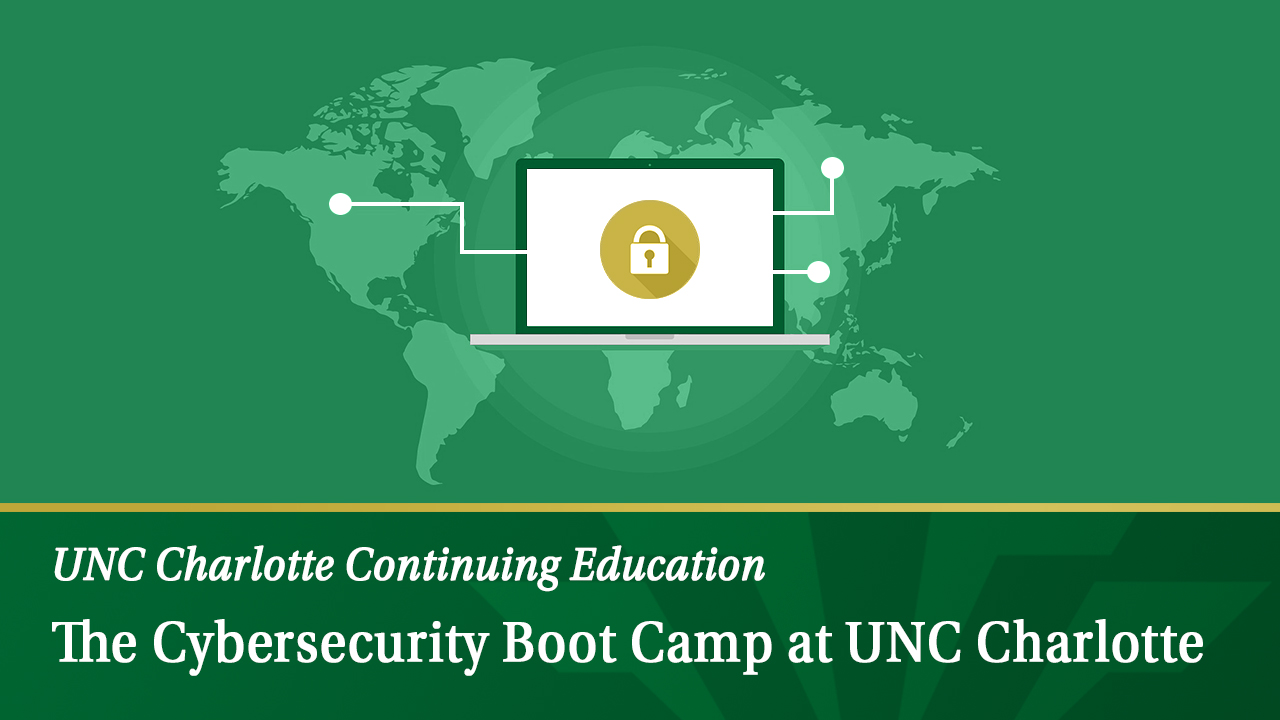 Our daily life, economic vitality, and national security depend on a stable, safe, and resilient cyberspace."
- U.S. Department of Homeland Security
Big data needs big protection. That's because 90 percent of the world's data has been created in just the last two years. And as computer networks grow, so too does the quantity of vulnerable information.
The 24-week Cybersecurity Boot Camp at UNC Charlotte is a challenging, part-time program that takes a multidisciplinary approach to attaining proficiency in IT, networking, and modern information security.
Throughout the course, you will gain experience with a host of popular tools such as Wireshark, Kali Linux, Metasploit, Nessus, and more. In addition, students will learn skills applicable to certifications such as the CompTIA Security+, CompTIA Network+, and ISC CISSP, which can greatly enhance desirability and employability in today's job market. You will also learn methods, techniques, and best practices for convincingly conveying the severity of the risks facing an organization's security posture.
Why Should I Choose this Program?
Building on the Basics
Achieving your goals in Cybersecurity requires not only deep security knowledge, but also experience with the application of that knowledge. Our curriculum is designed to give you both the knowledge you need to move toward the cybersecurity industry and ample experience applying that knowledge to real-world problems. Throughout the program, you will learn tools and technologies vetted by current practitioners, and learn skills applicable to three certifications expected of all serious security professionals.
Real World Application, Real Jobs
Graduates of the Cybersecurity Boot Camp will learn critical skills relevant to the following careers:
Cyber Network Defender
Cybersecurity Analyst
Vulnerability Assessment Analyst
Cybersecurity Operations Specialist
Network or System Security Administrator
Systems Security Analyst

Information Assurance Specialist
Penetration Tester
Digital Forensics Examiner
Incident Response Analyst
IT Auditor
Secure Coding Specialist
Who Should Attend?
The Cybersecurity Boot Camp is for anyone who needs to know how to keep data safe from prying eyes. Enrolling can help you achieve your goals if you say "yes" to any of the following:
You are currently a technical professional, such as a web developer, network administrator, or help desk technician, who wants to better understand how to keep data secure.
You are a manager in a company whose revenue depends on the confidentiality, availability, and integrity of client data.
You are a manager dedicated to managing growing cyber risks to your organization.
You are looking to move into Cybersecurity from an already technical field, such as systems administration.
You are a tech enthusiast looking to get your foot in the door in the world of networking and security.