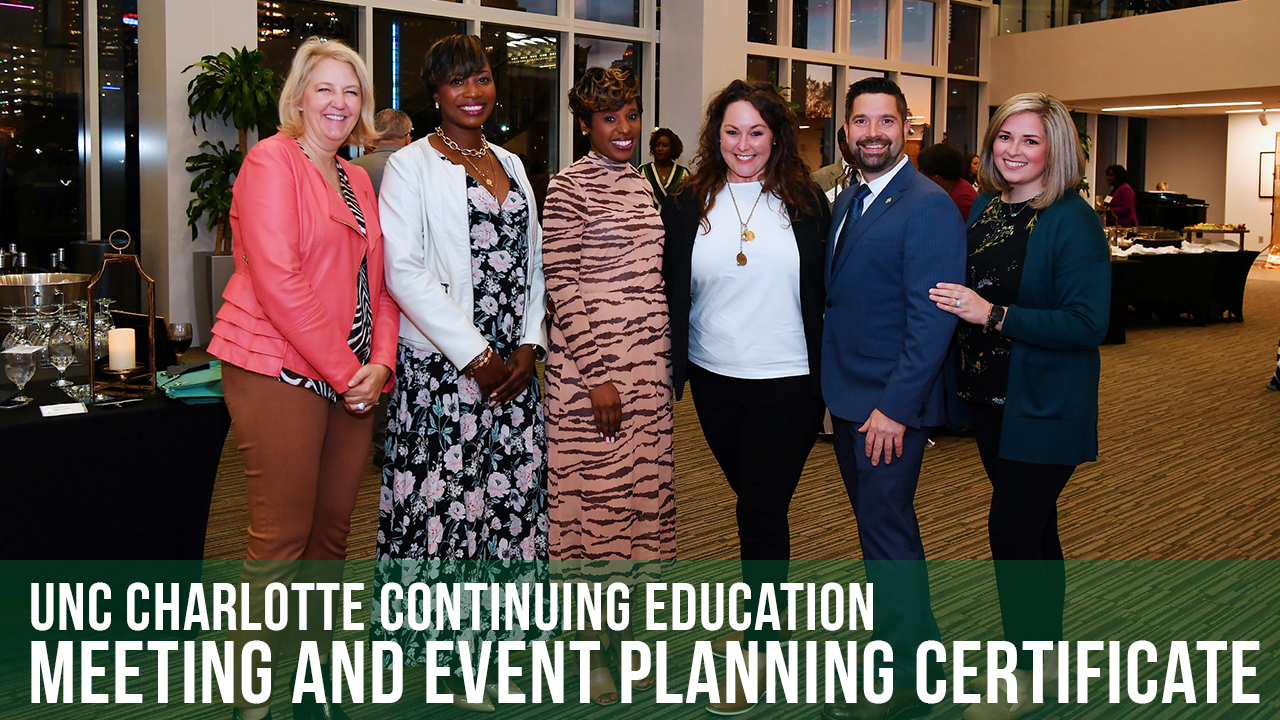 Overview
Meeting, Convention, and Event Planners are in demand. Lightcast, a labor market analytics company, states the projected growth for meeting, convention and event planners is expected to grow 17.7% between 2022-2033 in North Carolina; faster than the national average for this profession.
According to the Greater Charlotte Hospitality and Tourism Alliance, our local hospitality industry, which was generating approximately $7.5 billion in annual revenues (pre-pandemic), and employed more than 100,000 people in the Greater Charlotte area is a resilient industry and will continue to grow and have more of an impact on practically all businesses in our region.
The UNC Charlotte's Meeting & Event Planning Certificate program was designed to meet the needs of this dynamic industry. Every class features interaction among students and award-winning instructors, whose expertise and knowledge of the industry tools and resources, help prepare you to enter or advance in this field.
It provides comprehensive education, whereby each module focuses on a different component of event planning and event development, resulting in a composite that teaches tactical skills and strategic thinking techniques. The content and instruction will help you stay on the cutting edge of the profession.
Strategic Meetings Management
Marketing Events
Designing Special Events
Risk Management & Contracts
Presentation & Sales Strategies
Fundraising and Non-Profit Events
The Business of Weddings
Trade & Consumer Shows
Hotel Operations & Management
Virtual Events
Develop needs assessments and profile attendees
Develop goals and objectives
Design and develop outstanding programs
More effectively communicate and negotiate with planners and suppliers
Create budgets and develop timelines and checklists
Conduct comprehensive site selections and inspections
Plan for security, crisis management and legal issues
Successfully market and promote your meeting or special event
Implement a Green meeting
Plan and process fundraising events
Wedding planning
Additional Information
Attend ten instructor-led courses in the program.
Complete a minimum of 10 hours of event or meeting planning practicum experience.

Also, we request that students NOT use their regular/current jobs as hours for the practicum.
This is because we want students to experience more than one facet of event planning and management to get a more rounded view of the discipline.

Complete homework assignments.
Prepare and deliver team capstone project presentation.
Upon successful completion of the ten Meeting and Event Planning classes, practicum hours, homework assignments, and team project presentation, students will receive a professional Certificate in Meeting and Event Planning from UNC Charlotte Continuing Education
To receive your record of attendance, full participation is expected. Participants must be present at the beginning of each course and be in attendance through the duration of each course in order to receive the record of attendance. Credit hours will only be adjusted under extenuating circumstances.