GFG105
-
Business Analysis Professional Certificate
43894269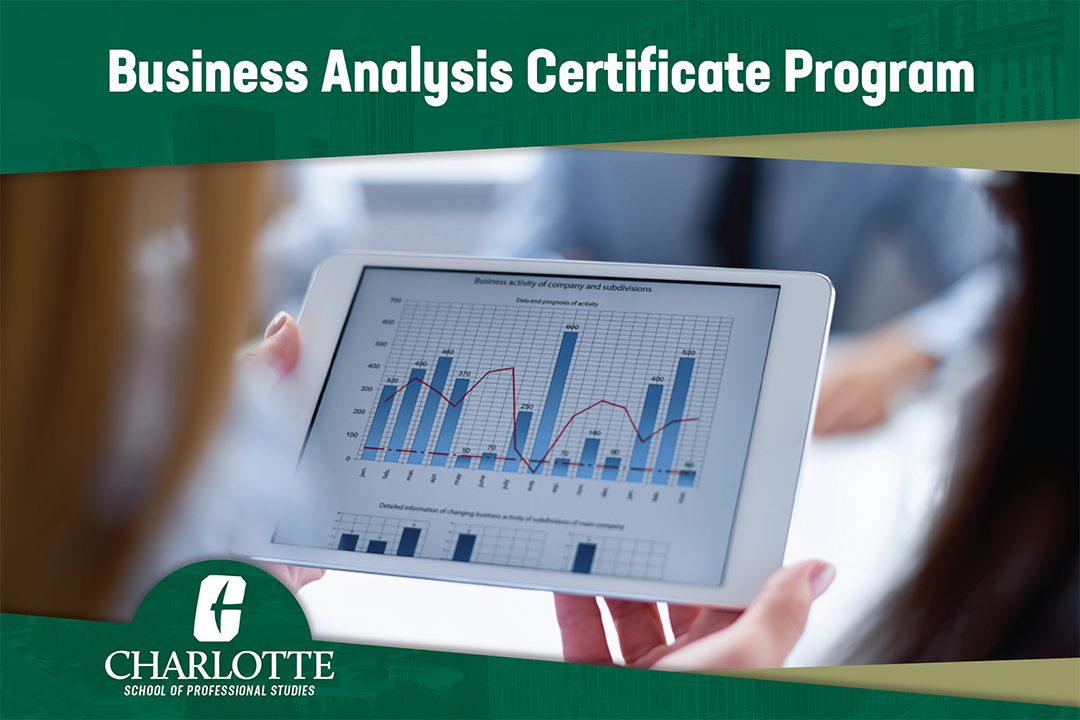 Course Overview
Business Analysis Certificate
A 10-Week Online Mentored Certificate Course where students learn key analytics concepts and methodologies and finish the program prepared to take the Tableau Desktop Specialist Certification Exam.
Fully online with optional weekly live, interactive group sessions
Industry expert guest speakers
Real-world projects with hands-on practice
Strategic Business Analytics Playbook
Tableau Desktop Specialist Certification
Assessments and feedback from mentors
Delivered fully online, our Business Analysis Certificate Course is taught by industry experts and covers the key knowledge areas required to be effective at leveraging data to answer business questions and guide company strategy. In this 10-week course students will learn key analytics concepts and methodologies, get hands-on practice (with feedback from experts) and earn in-demand credentials.
Learners walk away with in-demand practical skills and a Strategic Business Analytics Playbook that showcases their data analysis, data modeling, data visualization, SQL and analytical reasoning skills to current and future employers.
Our Students
Our course attracts learners who are motivated to expand their knowledge and grow their careers. Our course is ideal for anyone who identifies with one of the following profiles:
Individuals considering a career in an analytics-related capacity who want to build data-oriented skill sets and gain their Tableau Desktop Specialist Certification.
Business-focused professionals looking to develop new skills to expand career opportunities or improve potential for advancement (i.e., marketing, sales, finance, business operations, HR or other related fields).
Recent graduates looking to gain a "big picture" understanding of Business Analytics and build in-demand skills employers are seeking.
Entrepreneurs looking to grow their business by utilizing skills in data extraction, modeling and visualization.
Time Commitment
You should expect to spend four to six hours each week completing assignments engaging with content created by industry experts, including hands-on activities and assignments in the online learning portal (LMS). Additionally, optional (but recommended) weekly live/online group sessions (two hours) are available for engaging in real time with peers, experts and mentors.
GreenFig - Our Curriculum Partner
This Business Analysis Certificate Course is provided in partnership with GreenFig, a market-driven education company that delivers innovative programs to prepare learners for the demands of today's economy.
Required fields are indicated by .