PPI107
-
Civil PE Prep Courses (Breadth + Depth)
4894652
Course Overview
UNC Charlotte Continuing Education is proud to partner with PPI, the #1 developer of exam prep courses, books, and materials for the NCEES FE, PE, and SE exams.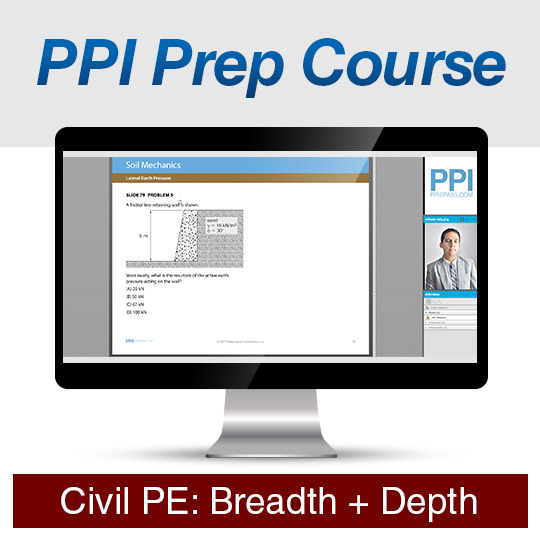 This Course Includes:
30 hours of live online Morning Breadth instruction and 18 hours of live online Afternoon Depth instruction from Civil PE exam subject matter experts
14 hours of Office Hours to ask questions and review extra problems in a live setting
FREE OnDemand lectures of the Breadth course so you can start studying right away
FREE calculator lessons for the Casio FX-115 ES Plus Advanced Calculator
Brand new, exam-like problems you can't find anywhere else
Focused homework assignments from a structured course syllabus
PPI's #1 Civil PE books and study tools, by Michael R. Lindeburg, PE
An online discussion forum to post questions and communicate with the class
PDF downloads of the presentation materials for convenient note taking
Test-taking strategies and time management tips
A guarantee you'll pass or you can repeat the OnDemand course for free
Additional Information
How do I apply to take the Professional Engineering Exam?
Prospective candidates must contact the appropriate governing board in their state to officially register for the PE exam.
If you wish to take the examination in North Carolina, contact the North Carolina Board of Examiners for Engineers and Surveyors, 4601 Six Forks Road, Suite 310, Raleigh, North Carolina 27609.
Phone: (919) 791-2000
Website: http://www.ncbels.org/
If you wish to take the examination in South Carolina, contact the South Carolina State Board of Registration for Professional Engineers and Land Surveyors, P.O. Box 11597, Columbia, SC 29211- 1597.
Phone: (803) 896-4422
Website: http://www.llr.state.sc.us/POL/Engineers/
Required fields are indicated by .